News
Buy "Hands Like Claws" from iTunes or Amazon for less than £2.
Breakcore and electronica remixes courtesy of Phluxm and Glatze
Interviews! Squabblebox Interview and Core And Co Interview
Read our lyrics in the 'Notes' on our Facebook page
Get the Android Phone App here
Note: You'll need to enable "Unknown Sources" in your Application settings and rename the file .apk if it downloads as a .zip file
Quotes
"[Meatfeast] recognize the absurdity inherent in extreme musical forms and embrace it"
- Avant-garde Metal.com
"Mike Patton would be proud"
- Terrorizer Magazine
"Ready to make it big"
- Kerrang! Radio
"Cut n' paste hardcore with enough humour to wring a smile from the driest of palettes"
- Live & Loud
"Have to be seen to be believed..."
- Stephen Hudyba, Surface Festival
"Awesome... Kids put your parents to bed"
- BBC Radio WM
"A montage of musical musings, barrages of unsculpted noise"
- Kevyn Gammond, MAS records
"Surreal, subversive and wholly inspired"
- Surface Unsigned Magazine
Listed as one of The Best 100 Birmingham Bands of the Decade by Blue Whale Studios
Biog
Sound : Meatfeast are a dark cocktail of absurd ideas, black humour, spasmodic aggression and strong melodies. Difficult to define, they could be considered Progressive / Avant-garde Metal or Post-hardcore. Deliberately drawing in a range of disparate influences within every song : the results are surreal musical montages.
Line-up : Scrote (Vocal), Dr.G (Guitar), El Barón (Guitar), Adam (Bass), El Barítono (Saxophone) and uITgs (Drums).
Influences: Mike Patton, Mr.Bungle, Fantomas, Secret Chiefs 3, Frank Zappa, Meshuggah, The Dillinger Escape Plan, The Locust, Death Metal, Black Metal, Contemporary Jazz.
History : Formed in 2005 by guitarist Dr.G and drummer uITgs and originally named Jazz Thrash Assassin, Meatfeast have been delivering their self-styled 'Eclecticore' to audiences across Birmingham and the Black Country in a series of show-stopping and mind-bending live performances at UK events, and on national TV and radio.
Contact / Bookings
Email :
Send us a message!
Music
'Hands Like Claws' EP
Buy Now from iTunes Amazon
feat. 'A Void Can Be Willed' & 'Domestic Violence'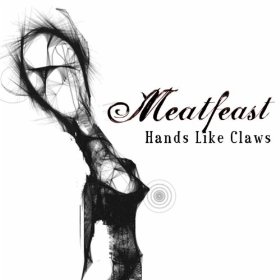 'Skin Tucked In, Meatside Out' EP
Buy Now from iTunes Amazon
- feat. 'Self-inflicted Haircut' & 'Sparrow Mask'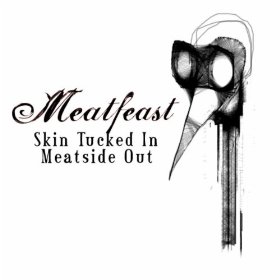 Undomestic Reviolence - The Domestic Violence Remixes
Free MP3 Downloads - by Phluxm and Glatze (AKA Mr.Underwood)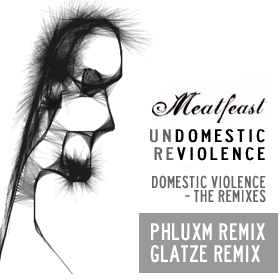 Merch
MEATFEAST T-SHIRTS still available

Only £8 (UK Only). Includes free download of Hands Like Claws EP.
Get yours here.