Quotes
"[Meatfeast] recognize the absurdity inherent in extreme musical forms and embrace it"
- Avant-garde Metal.com
"Mike Patton would be proud"
- Terrorizer Magazine
"Ready to make it big"
- Kerrang! Radio
"Cut n' paste hardcore with enough humour to wring a smile from the driest of palettes"
- Live & Loud
"Have to be seen to be believed..."
- Stephen Hudyba, Surface Festival
"Awesome... Kids put your parents to bed"
- BBC Radio WM
"A montage of musical musings, barrages of unsculpted noise"
- Kevyn Gammond, MAS records
"The band's motorway pile-up of styles certainly does justice to the title ... Eclecticore is the musical equivalent of having your TV remote grabbed by a compulsive channel-surfer."
- Sam Inglis, Sound on Sound
"Surreal, subversive and wholly inspired"
- Surface Unsigned Magazine
Listed as one of The Best 100 Birmingham Bands of the Decade by Blue Whale Studios
Biog
Sound : Meatfeast are a dark cocktail of absurd ideas, black humour, spasmodic aggression and strong melodies. Difficult to define, they could be considered Progressive / Avant-garde Metal or Post-hardcore. Deliberately drawing in a range of disparate influences within every song : the results are surreal musical montages.
Line-up : Scrote (Vocal), Dr.G (Guitar), El Barón (Guitar), Adam (Bass), El Barítono (Saxophone) and uITgs (Drums).
Influences: Mike Patton, Mr.Bungle, Fantomas, Secret Chiefs 3, Frank Zappa, Meshuggah, The Dillinger Escape Plan, The Locust, Death Metal, Black Metal, Contemporary Jazz.
History : Formed in 2005 by guitarist Dr.G and drummer uITgs and originally named Jazz Thrash Assassin, Meatfeast have been delivering their self-styled 'Eclecticore' to audiences across Birmingham and the Black Country in a series of show-stopping and mind-bending live performances at UK events, and on national TV and radio.
Music
'Hands Like Claws' EP
Buy Now from iTunes Amazon
feat. 'A Void Can Be Willed' & 'Domestic Violence'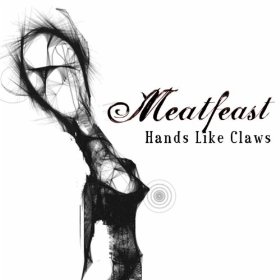 'Skin Tucked In, Meatside Out' EP
Buy Now from iTunes Amazon
- feat. 'Self-inflicted Haircut' & 'Sparrow Mask'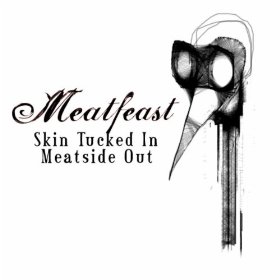 Undomestic Reviolence - The Domestic Violence Remixes
Free MP3 Downloads - by Phluxm and Glatze (AKA Mr.Underwood)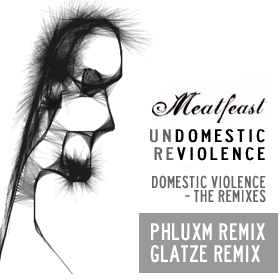 Merch
MEATFEAST T-SHIRTS still available

Buy from Bandcamp (UK Only). Includes free download of Hands Like Claws EP.
Get yours here.